Michelle at Mummy from the Heart started running the link up as a way for us to appreciate the small things in life. However, since my break from blogging she has passed over the reins to oJo over at oJo's World.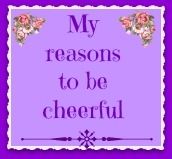 This week's Reasons to be Cheerful:
As I mentioned in Wobbles Wednesday, I've tried to be good and have tried to get out for a walk when I'm up to it.

I've registered for my next O.U. course, nerves and apprehension already but at least I will try.

I have cut down the amount of time I'm online. I use Swagbucks to try and earn some Amazon Gift Cards for things I need and for Kiki's birthday presents, but I cannot be bothered at the moment.

Kiki hasn't been herself for last few days, that in itself obviously isn't a reason to be cheerful, but she has being giving me lots of cuddles and Daddy got lots too.

I'm thinking about deleting my A-Z of Me and starting again, although not sure as it shows where I was and how far I've come.

I shared some of my old blog posts

I have mental health problems! and Depression, self harm, pregnancy, and F*ck ups

on Facebook, not something I ever do, they are separate friends to this part of my life, if that makes sense; and they were received quite positively. One friend actually asked if she could share on her own page.

I was invited to Stockeld Park for an

exclusive VIP pre-opening event for the Summer Adventure, I'm excited as I've never been, but have heard great things.

As always, people who matter, are around us.
So over to you, what have you been up to this week?
What are your reasons to be cheerful? Do let me know.